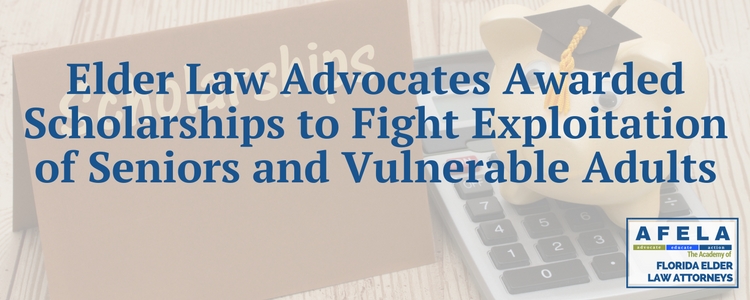 (Tallahassee) – Florida's elderly and adults with disabilities will be
the beneficiaries of an educational opportunity recently created for
their advocates.
The Academy of Florida Elder Law Attorneys (AFELA) is taking a step
toward cutting down on the abuse of our most vulnerable citizens by
granting two scholarships to legal services attorneys, allowing them
to attend "The Complexity of Elder Exploitation: Addressing the
Challenge". The event is sponsored by the Florida Attorney General's
Office and The Florida Bar Elder Law Section's Committee on Elder
Abuse, Neglect and Exploitation.
It will be held May 4-6th, 2015 in Altamonte Springs. May is also
Elder Law Month in Florida, recognizing efforts like this to educate
professionals, public servants and the public about the challenges our
elderly citizens face.
This also comes after Florida's legislature passed a law in 2014
strengthening the law against elder exploitation, a law in which AFELA
and the Elder Law Section played a pivotal role.
"The law now gives us the ability to take real action to cut down on
abuse and neglect," says AFELA President Emma Hemness, an elder law
attorney in Brandon. "The scholarships are a natural progression and
we feel an obligation to contribute."
This seminar will provide information on how to recognize,
investigate, and develop a plan to fight exploitation, including
utilizing community resources.
The two attorneys benefiting from the scholarship are from Community
Legal Services in Mid-Florida and Florida Rural Legal Services. This
is significant because Florida's legal services funds are tight,
making it difficult for these elder law advocates to attend these
valuable educational conferences.
"Attending this seminar will allow our firm to better educate our
clients with ways to minimize the risk of elder exploitation and
assist them with the various legal needs they face during these
challenging times," says Valencia Y. Stubbs, Esq, the scholarship
winner from Florida Rural Legal Services in Fort Pierce.
"This scholarship was critical for my attendance due to the decreased
funding," says Lizzie Johnson Esq, staff attorney of Community Legal
Services of Mid
Florida, the other recipient.
AFELA is a non-profit association for attorneys licensed to practice
law in Florida and whose practice is dedicated to elder law and
special needs law.
Contact: Al Rothstein (866) 636-3341