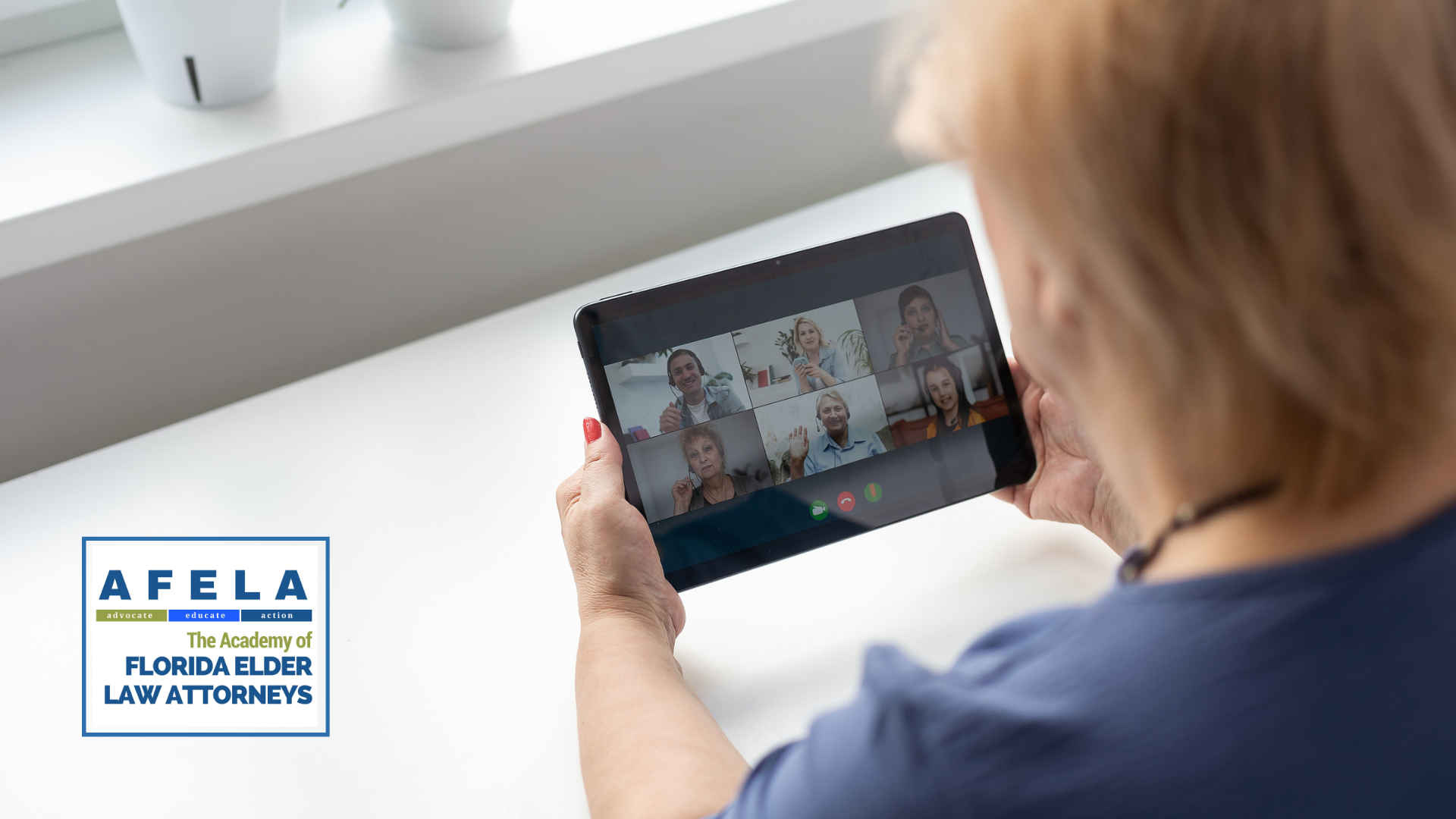 Reviewed by Jason Neufeld, Esq.
Do you keep an eye on several senior loved ones in your family? Do you have family members who also try to reach out with phone calls and visits? Do you ever think about using technology?  When the right technology is used appropriately seniors may find it easier to engage with family and others and remain healthy and safe in their independent living situation. Below, read about technologies that might help your senior loved ones. Take time to discuss technology options with your senior loved ones and family. In addition, ask the primary care practitioners of your senior loved ones to identify areas where technology may help them now and in the future.
Did you realize that technology can help support and promote health and wellness for your senior loved ones? Telehealth is becoming more and more common and it could make it easier for your aging seniors to manage their illnesses and connect with health care professionals while at home. You or other family members should be with your senior loved ones during the first few video visits so help can be given to your senior loved ones and they can gain the confidence to connect with health care professionals independently.  There are also medication management systems that can issue reminders, dispense medications, monitor medication usage, and notify caregivers when doses are missed. There are products like epill and MedMinder available to consumers for purchase or for rent.
Do you worry about your senior loved ones not getting out and meeting with family and friends and becoming socially isolated? Technology could help. Technology as simple as a cell phone can increase the opportunity for all your senior loved ones to connect. Be sure to look for phones with large buttons and clear screens. An example of a phone designed for seniors is the Lively Flip phone, with a special one-click button to connect with a member of the Lively Response Team, who can summon help or connect the caller with a board-certified doctor or nurse. Now if your senior loved ones have a hearing loss, a captioning app like Clear Captions can allow them to read phone conversations in near real-time. You and your family should also consider utilizing video conferencing technology like Zoom and FaceTime to connect with your senior loved ones. Face-to-face conversations may be easier for your senior loved ones, and this technology allows everyone to be included, even when there are social distancing restrictions. Remember, technology can offer seniors the opportunity to connect with friends and family, which is necessary, as many seniors suffer from isolation and depression. Also, look for easy-to-use computers and touch-screen capabilities, like the GrandPad or iPad.
Are you and your family worried about keeping your senior loved ones safe at home? It is time to look into the technology that can work to keep your senior loved ones safe at home. Aging can cause bodies and minds to become weaker, less balanced or even forgetful, so the risk of falling or wandering off increases. However, there are technologies that can help seniors stay safe while living at home. For example, there are different home monitoring systems, like Alarm.com Wellness. These systems use strategically-placed sensors to allow you and your family to monitor the daily activities of your loved ones and they will notify you when there is a disruption. In addition, there are personal emergency response systems (or PERS) that are typically worn on a necklace or belt clip, and will send an alarm if it perceives a fall, wandering, or if the individual wearing it presses the button. Many will send help immediately. An example of this type of product is MobileHelp. If wandering is a concern, GPS tracking devices, like GPS SmartSole or Theora Connect Wearable, can alert the authorities and help locate a missing person quickly.
The Academy of Florida Elder Law Attorneys (AFELA) is the pre-eminent organization of Florida elder law attorneys providing advocacy, education and action on behalf of seniors and people with disabilities. We encourage you to contact one of our attorneys in your area using our Find a Lawyer website for assistance.