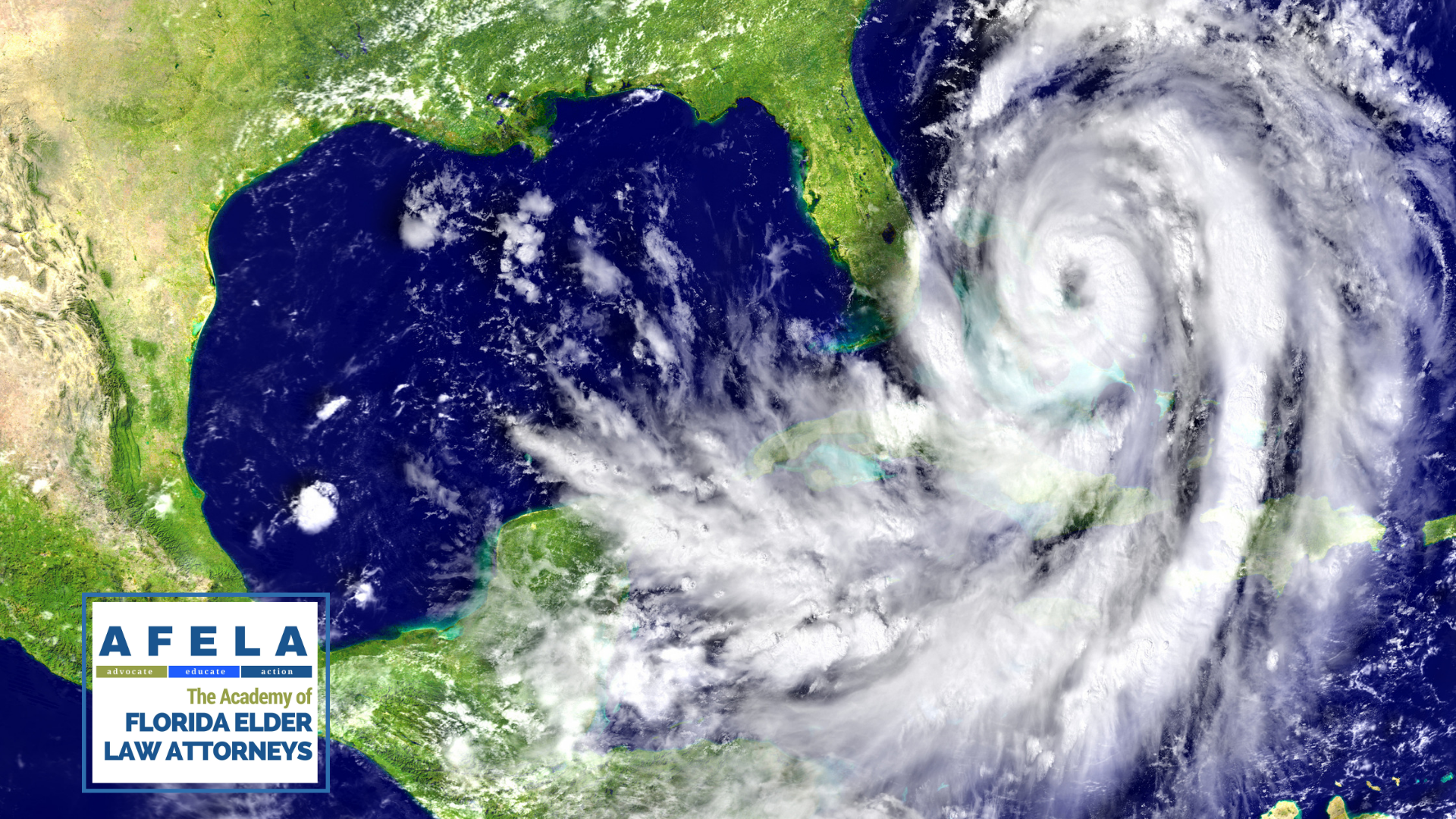 Reviewed by Mike Jorgensen, Esq.
As Floridians, we know that hurricanes are among the most devastating natural disasters on earth. Tree-snapping winds, torrential rains, and mass flooding are just some of the superstorm's deadly effects. Others, like prolonged power outages, can cause a wide range of dangerous situations that exist long after the storms pass.
With hurricane season from June 1st through November 30th, Florida seniors cannot afford to be ill-prepared. We know that even when the skies are clear, there is never a "wrong time" to plan a head.
Please consider these important tips for you and your loved ones as you plan forward to stay safe during hurricane season.
1. Stay Informed.
Keep abreast of whether a hurricane could impact your area and if an evacuation is recommended, or mandatory. You may want to not only stay tuned to local news, but also monitor National Oceanic and Atmospheric Administration (NOAA) updates from a battery-powered radio (keep extra batteries). NOAA broadcasts continuous weather information through a nationwide network of National Weather Service offices. Tech savvy seniors and their loved ones can also download the Federal Emergency Management Agency (FEMA) app to receive hurricane alerts.
2. Pre-Plan for Evacuation.
Pre-planning for the event of an evacuation is always best. This way you can ensure that you will not miss any of the important things you may need if you are going to be away from home for an extended period of time. Need ideas on where to start? Seniors should consider packing:
A laminated sheet of contact information for relatives, friends, and doctors.
At least a week-long supply of prescription medicines, along with a list of all medications, their proper dosage, and any relevant allergies.
Copies of medical insurance and Medicare cards.
Extra eyeglasses and hearing-aid batteries.
A list of the style and serial number of any medical devices. Include special instructions for operating the equipment, if necessary.
If relocating to an emergency shelter with a service animal or pet, verify a head of time which shelters allow pets, be sure to pack food, extra water, collar with an ID tag, vaccination records and other important supplies.
Handheld electronic devices with spare chargers and headphones. These should primarily be used for information gathering and communication, but can also be loaded with movies and games.
Important papers, i.e., passports, licenses, family photos, etc.
3. Maintain access to Electronic Benefits.
Seniors who depend on Social Security or other regular benefits, should consider switching to electronic payment methods if they haven't already.
This would eliminate hurricane-related financial hardship if mail delivery is suspended or if banks cannot physically open.
Electronic delivery also eliminates the risk of stolen paper checks. The U.S. Department of the Treasury allows for electronic direct deposit of federal benefits through checking or savings accounts, and prepaid debit cards. Social Security recipients can easily register online.
We know this article may raise more questions than it answers for you. When it comes to planning for storm season, there is never a wrong time to plan ahead. Do not wait to contact one of our experienced Florida elder law attorneys to help you and your loved ones be prepared for everything that comes your way, whether it is this storm season or any time throughout the year.