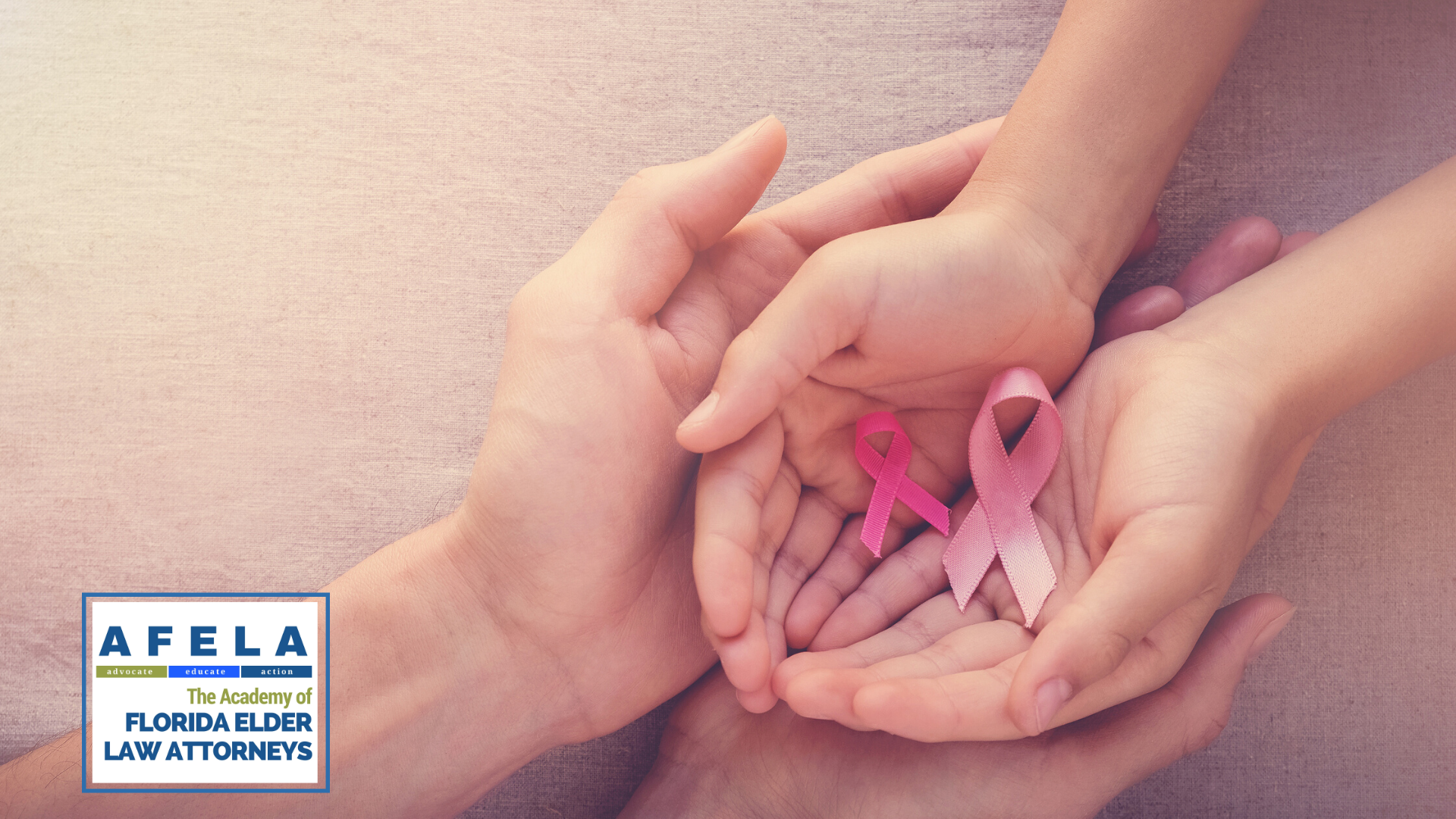 Reviewed by Mike Jorgensen, Esq.
Breast Cancer Awareness Month is an opportunity to celebrate those bravely battling the disease of breast cancer, and honor those who have succumbed to it. Millions of women, and thousands of men, have been affected by the disease and yet little is known about its exact causes.
Genetics and age are two leading identifiable risk factors, and both put Baby Boomers at an elevated risk. Research shows that women are one hundred times more likely to contract breast cancer than men, and two-thirds of women with invasive cancer are over the age of 55. Other risk factors stem from unhealthy lifestyle choices, such as smoking, alcohol abuse, and obesity. In total, an estimated one in eight women will be diagnosed with breast cancer in their lifetimes.
One practical area to address in the aftermath of a positive diagnosis, is estate planning, especially regarding health care documents. Without an up-to-date estate plan that includes health care planning tools, such as the health care advance directive and living will, there are no guarantees that a patient's treatment wishes and potential end-of-life choices will be followed if he or she is unable to direct his or her own care.
The same applies to financial considerations. A sound estate plan must include an adequate, if not much better, durable power of attorney. The durable power of attorney is one of your best defenses to the need for a guardian. Without written authority, your decision maker may not be able to make decisions for you without court intervention. The durable power of attorney designates a primary and an alternate individual, such as a spouse or an adult child, to make important financial decisions for the person if he or she is incapacitated or unable to make competent choices. Note, in Florida, the durable power of attorney is immediately effective and will cease to be effective upon your death.
It is best practice for cancer patients and their families to grapple with estate planning imperatives early, as it may only become more difficult, or improbable, during treatment. Bear in mind, however, that it is also recommended to create or update an estate plan long before any potential health issues arise.
We know this article may raise more questions than it answers. It is never easy to think about a time when you may be incapacitated or otherwise unable to make your own decisions. Pre-planning may ensure that your choices are honored and that you are prepared and protected for an uncertainty that may arise now or in the future. Do not wait to contact one of our member elder law attorneys through our Find a Lawyer page to find an attorney in your area who may be able to assist you.