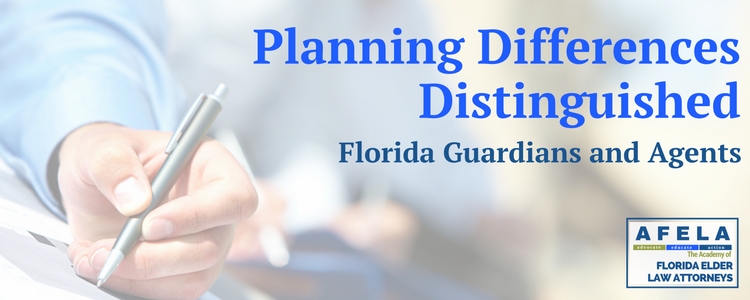 Lifetime legal planning is premised on identifying and empowering someone you can rely on to act on your behalf as needed in the future. This is necessary, even in a marital relationship, because your legal spouse does not have the actual legal authority to act on your behalf in all instances. If you are an unmarried adult, whether age 18 or 81, no one has the actual legal authority to act on your behalf in most circumstances, unless you have so appointed them in a legally recognized manner, or a court of competent jurisdiction has done so.
The person so appointed by you is your agent while the person so appointed by a Florida court is a guardian. Both an agent and a guardian are required to act in a fiduciary capacity on your behalf. Keep in mind, handling your financial, legal, and health care affairs outside of court oversight and supervision is less intrusive and much less expensive than a court supervised guardianship. Most of us choose to legally empower our agent, who we select, to act on our behalf. In a sense, your agent will be walking a tightrope without a safety net in those instances, but with the main risk being to you and your care if your agent proves untrustworthy.
For example, you may wish to authorize someone to handle your personal, business, financial and legal affairs for you. In Florida, this is usually achieved by the designation of an "agent" under a Durable Power of Attorney. You, as the "principal", make this designation under that legal instrument. Likewise, you may wish to name someone to make health care decisions for you. In Florida, this is similarly accomplished by the designation of a "surrogate" under a Designation of Health Care Surrogate or Living Will, or both. Your elder law attorney handling your lifetime legal planning may also choose to use a statutory Pre-Need Guardian Designation, or even a HIPAA (i.e., General Medical Records) Release to supplement your Durable Power of Attorney, Designation of Health Care Surrogate, and Living Will.
Clients may have the option of two equally well suited agents or surrogates. In this instance, the Durable Power of Attorney provides you with the flexibility to resolve this by naming both, with independent powers, to act on your behalf. Alternatively, some clients believe that a clear chain of command approach is best, and name their agents or surrogates in an order of established succession to act on their behalf.
In addition to the foregoing considerations, some clients trust one person to better serve their needs as the agent under a Durable Power of Attorney, but another to serve them better as their Health Care and Living Will surrogate. If you do employ such a team approach, it is vital that you talk through with each of them their respective duties, and your expectations of them working effectively with the other for your best interest. You should not overlook the willingness and desire of each of them to serve on your behalf at a time of crisis, when you need them the most. If an agent or surrogate is going to bail on you when needed, then you really haven't made a very good choice!
Authored by Grady Williams.
Edited by Audrey Ehrhardt.
Reviewed by Walt Shurden.