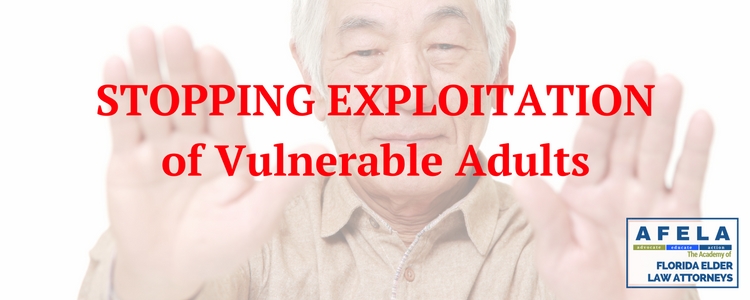 A groundbreaking new law took effect on October 1st, 2014, which makes prosecuting exploiters much easier, and holding them criminally and civilly accountable. This new legislation is the first in the United States to truly hold predators of our most vulnerable citizens accountable.
Representative Kathleen Passidommo worked with members of the Elder Law Section of the Florida Bar, The Academy of Florida Elder Law Attorneys, Prosecutors from across the state and Adult Protective Services to draft this amazing legislation.
There is now a PERMISSIVE PRESUMPTION OF EXPLOITATION independent of capacity issues when you have the following:
1) Transfer without value of over $10,000;
2) exploited individual is 65 or over or disabled; and
3) Predator is a non-relative who has known the victim less than two years before the first transfer.
What this means for victims out there is that the jury will get to decide whether the facts that include these elements are in fact a crime. Often what happens in these terrible cases is that the perpetrator has engaged in similar actions with different victims over a number of years. We can now finally hold them accountable!
In addition, there are also provisions regarding guardians, trustees and agents under a power of attorney who can now be held criminally responsible when they violate their duties. Also, joint account holders who do not contribute to the account can no longer take monies out of an account meant for convenience of the vulnerable adult.
Elder law attorneys have been advocating for these law changes for a very long time. We are very proud to have been a part of this process and we want to encourage you to contact an elder law attorney or use our referral service through AFELA.com to find an attorney who can help you with resolution of any exploitation matter.
Authored by Shannon Miller
Reviewed by Jill Burzynski