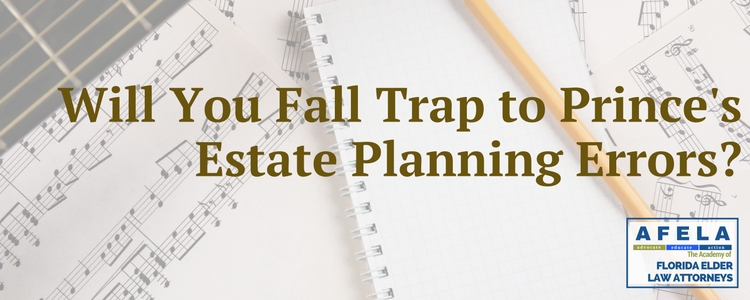 Prince Rogers Nelson was so popular that he was known to the world simply as Prince. He sold over 100 million records worldwide, making him one of the best-selling recording artists in history. Prince unexpectedly passed at the young age of 57 and left behind a personal estate valued between roughly 250-350 million dollars.
What he did not leave behind was a will, a trust, or any advanced directives. His estate is currently in the process of being probated in his home state of Wisconsin and his estate is about as close to a legal nightmare as one can envision.
Prince's incredible financial success begs certain questions. Why would a person with Prince's wealth not have had a will in place designating a beneficiary or beneficiaries to his estate? Why would a person with such a large tax burden not have had one or more trusts in place to minimize this burden? And why would a person dealing with a serious illness not have an advanced directive and a living will in place to make his wishes known to medical providers?
The answers are simple and unsettling. Like so many people Prince either procrastinated planning his estate or he ignored the issue despite his business success and his wealth. Perhaps he did not plan on passing so unexpectedly and at such a young age. It is unsettling because procrastinating and avoiding estate planning resonates with many people. A significant portion of people under the age of 57 have not even considered estate planning. Many more people under the age of 57 have a will in place but do not have a comprehensive estate plan. And another sizable portion of people the same age don't know what constitutes comprehensive estate planning.
The unfortunate status of Prince's estate should be a cautionary lesson to people that the same fate that befell Prince's estate can happen to anyone who fails to properly plan his or her estate. Prince's estate exemplifies the necessity of comprehensive estate planning and demonstrates that with advanced and proper estate planning the issues currently facing his estate could have been seriously mitigated, if not completely avoided. At some point we all must address what will become of our assets, our belongings, and our life's work product – and even more important, our family.
Discussing matters of estate planning with trusted legal counsel can be challenging but it is necessary. If you are inclined to procrastinate or outright avoid the issue of estate planning you should look at the current status of Prince's estate to help you find the motivation you need to deal with planning your estate. Wills and advance directives are easy to change if future events cause for a different plan, so it's good to make a plan even if the plan changes in the future. Remember, wills and advance directives are never possible to create once someone has become incapacitated.